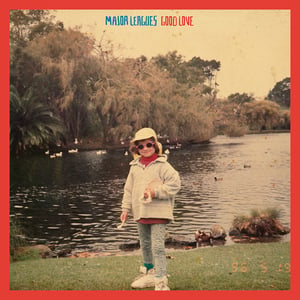 $

26.00
MAJOR LEAGUES - GOOD LOVE (vinyl)
Debut full-length from Brisbane garage pop four-piece Major Leagues. Produced by acclaimed Australian artist Jonathan Boulet.
Over 2013's 'Weird Season' EP and 2016's 'Dream States' EP, Major Leagues have become synonymous with their unique brand of DIY pop characterised by stunning vocal harmonies, crisp lo-fi production and nostalgic undertones. Singles such as 'Endless Drain', 'Someone Sometime', 'Better Off' and 'Teen Mums' have been championed by radio stations such as triple j, triple j unearthed, FBi 94.5FM, Triple R, RTRFM and 4ZZZ. 'Silver Tides' also caught the attention of iconic rock outfit The National who featured the song on their 'infinity Radio' playlist.
Major Leagues have toured relentlessly in between releases, performing their own headline shows around the country in addition to support slots with the likes of Alvvays (CAN), Beach Fossils (USA), Wild Nothing (USA), Wye Oak (USA), San Cisco, The Preatures and DMA's. The band will perform three special shows in late April to suppor the release of their new single.
1. Swimming Out
2. Mess Up
3. Jaimee and Anna
4. Good Love
5. Curls
6. It Was Always You
7. Special Angel
8. NONO JOJO
9. Holiday
10. Don't Wanna
11. Dream Away
12. How Will The Heart Know